Mack & Mary Gordon, Mary Ann's parents
Mary Ann and I were married Feb. 14, 1953. Her parents were Mack and Mary Gordon. She had three little sisters; Joan, Peggy, and Janice (Jan).
Mack Gordon lived with his parents, Henry, Myrtle Gordon, in Rockford, Texas. That's in Lamar County about twenty miles southeast of Paris, Texas. In 1937 Henry had a sister named Kate Eaton who lived in Knoble, Arkansas. She was a good friend of Mary Jenkins and a lady preacher named Sister Virgie Hunter (later to be Sister Virgie Temple). Sister Virgie held a four week revival in Knoble and Mary played the piano for her.
Sister Virgie was asked to come to Taylortown, Texas to hold a revival so she asked Mary, now nineteen years old, to go also and play the piano for her. Her parents, Thomas and Mada Jenkins were reluctant to let her go but finally said that she could go. Kate Eaton went with them to see her brother, Henry Gordon. The three ladies took the train from Knoble to Paris, Texas.
Henry sent two of his sons to Paris to meet the train at the station. One of the young men was Mack Gordon. When the three ladies stepped off the train Mack saw Mary and thought she was very pretty. He whispered to hs brother and said jokingly, "I'm going to marry that girl!"
Sister Virge held a six weeks revival under a brush arbor at the Gordon Shed. (Later a church was built there called, The Union Church.) Mack Gordon was not a Christian at this time and didn't have much interest in the revival. But he stood back and watched Mary as she played the piano.
He desperately wanted to get to know her so he stood quietly behind her as she played. The only lighting the brush arbor had was kerosene lanterns. Bugs were flying around them and one lit on Mary's shoulder. Mack brushed it off and said to her, "Girl you sure are buggy!" (Getting introduced by a bug is somewhat of a miracle.) That broke the ice and soon they started dating.
After a brief courtship of only one month, they were married. On September 19, 1937 they drove over to Albert Walkers house, the local J.P., and honked the horn. He came out and married them as they sat in the car. (I think drive-in weddings were kind of new at that time.) Mack's father, Henry Gordon, was with them and told Albert he would come by and pay him later. He came by later and paid him with a hog. He told him that it would be for Mack and Mary's wedding and for Howard, (another son) and Susie who were soon to be married.
After the revival closed Sister Virgie and Kate Eaton took the train back to Knoble and Mary stayed there. Thomas and Mada Jenkins met the train expecting to see Mary. When they told them that she had gotten married they nearly fainted. In a few months, Feb. 1938, they moved to Rockford, Texas, not far from Taylortown. They just had to be close to their little girl.
This was during the depression and times were hard. Mack built them a house out of old lumber. It had a sheet iron roof. There were cracks in the floor and walls and the cold air came in. He ran out of lumber and never did finish the ceiling.
Their first child was born in 1938; a girl and they named her Mary Ann. Their second child, another girl, was born in 1940 and they named her Joan. Mary Ann remembers that she and Joan would climb up into the unfished ceiling and play with their paper dolls.
Mack went to the Army in 1944 and was sent to Fort Chaffy, Kentucky for his basic training. Mary took the two girls and went by train to Fort Chaffy and stayed until Mack had finished his training. This was during WWII and he was sent to the Philippine Islands. While he was there the war ended but there Japanese gorillas in the jungle that did not know the war had ended. Mack told this story, "One day some of us men went swimming in the ocean. We hung our close on an old wrecked Japanese plane on the beach that had been shot down. We left our guns there also. While we were swimming some Japanese gorillas came out of the jungle and started shooting at us. We had to run back to the plane and dodge the bullets."
When the war ended in 1945 Mack was sent home. The next year in 1946 their third child, another girl, was born. They named her Peggy. In 1948 their last child was born, you guessed it, another girl, and they named her Janice 'Jan'. Mack was still not a Christian at this time, but he was later. Mary took the four girls to church every Sunday, and every other service she could. She raised them to be Christians and they and their families are still Christians today.
Mary Ann remembers living in that house that her father built in Rockford. Times were hard but Mary Ann remembers her and Joan each got a new pair of shoes. When they left for school Mary told them to take care of their new shoes and try not to get them dirty. That afternoon when they started home it was snowing. They had to walk about a mile down a muddy, snowy road so they took their shoes off and walked home barefoot. When Mary saw them she cried.
Mary Ann remembers that she had to work in the cotton fields and hoe grass and weeds. On Saturdays they always went to town and her daddy always gave them a little change to spend. One day he gave her a dollar, the most money she ever had earned and she wanted to buy something special. After looking through all the stores several times she found a skirt for one dollar and bought it. She was so proud of it because she had bought it with her own money.
Joan, Mary Ann's sister, wrote the following story to her saying, "It seems like such a short time ago that you and I were still building playhouses. Remember that one just down the road from the 'house that Daddy built' where we had boards for a sofa, boxes for counters and cabinets, and a lard bucket turned upside down for a chair? We called it the playhouse under the trees. We spent hours and hours there. Also we had a quart jar filled with water and we would unscrew the lid just a little bit so water would drip out and we called that our faucet? We did not have very many toys but we used our imagination in creative ways. I remember that we kept Mother's Oxydol soap boxes and we laid them flat and made slits in the side and folded them in such a way that when it was finished we had a convertible car with two seats for our paper dolls.
Do you remember walking through the woods from the back of our house all the way to Mr. Fred Williams home at Taylortown? Also once we walked through the woods almost to Daddy Dred's store. I guess that in those days there was not much danger and maybe Mother thought that we were smart enough to stay out of trouble but I bet that we were not more that 8 and 10 years old at the time. Once we walked all the way to the cabin of a black couple who lived in the woods behind Uncle Johnny's and Aunt Dovie's house. I believe we called them Uncle Simon and Aunt Sarah. I have no idea about their last name. I do remember that their cabin had a dirt floor. That floor had been swept so many times that the floor was rock hard. What a memory! There were not many black families in our area at all but Dad was friends with all of them. The night that Jan was born, Dad and Uncle Pete were taking Mother to the hospital in town and it had rained so much that the road to Grandma Jenkins' house was impassable. Dad stopped at the home of one of his black friends and asked him if he would walk across the pasture the following morning and tell Grandma and Grandpa that Mother was having Jan. I think that the man was St. John Record but it may have been Redwyn Wade. Anyway he was willing to do it for the family. You, Peggy and I stayed with Aunt Ann until Mom came home from the hospital and then we all stayed at Grandma Jenkins' house for a couple of weeks. You and I attended Burnett School with Bill and Von for two weeks until we moved back home. Mom used a baby buggy for Jan. I think it had belonged to Aunt Ann for Karen and Betty.
Mary Ann, do you remember what Mom looked like in a maternity dress? I do. I remember a one piece dress that had small green and white figures of some kind on it."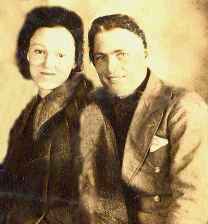 Mary & Mack Gordon